Artificial turf has been subjected to rigorous safety and performance testing for decades, but contradictory test methods and reporting requirements exist which have introduced confusion to the process. TURFconsultants has developed a clear and concise testing and inspection regimen that is easy to follow and execute, referred to as Recommended Procedures (RP's), which outline the testing and inspections recommended for synthetic turf sports field.
RP1 – Impact Hardness – Impact hardness (shock attenuation) is the amount of energy that is returned to the player's body upon impact with the surface. RP1 calls for 10 mandatory locations to be tested and 10 additional random locations. The 10 mandatory locations are sport specific.
RP2 – Planarity – Infill Depth – The inspection of the sports field to ensure the surface is level and the infill is consistent in depth. The infill material that is integrated within the fibers of the artificial turf system is the entire cushioning layer to ensure player safety upon impact.
RP3 – Visual Inspection – Synthetic turf fields are created utilizing various seam attachment methods which are subject to routine inspection to ensure they remain connected. Synthetic turf fields are historically subjected to increased vandalism. Infill can be displaced and damage can occur to the synthetic turf surface of which you may be unaware. Visual inspection of the field surface before every use is strongly recommended to ensure player safety.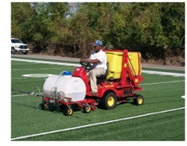 RP4 – Anti-Microbial Policy – There is no clinical evidence that topical sprays applied to sports surfaces provide any credible and lasting benefit to reduce MRSA and/or Staph. There is evidence that many of the commercially available sprays can be skin irritants to players. In the absence of any credible and clinically established benefit, sprays should not be utilized on any sports field surface. The purpose of RP4 is to pledge that no spray has been applied to the sports field surface that could be a potential skin irritant and if sprays are to be applied then players are given proper notification through adequate signage at the field of play.
For more information on the Recommended Procedures, please email inquiry@turfconsultants.com.